Caldwell, NJ, January 29, 2018 /Realty Wire/ – The sales team of Century 21 Cedarcrest Realty in Caldwell, N.J., were lauded for their hard work and success in 2017 at the real estate agency's annual awards breakfast. Broker owner John Sass shared the year's high points at the event, held on January 24 at the Hampton Inn & Suites in Fairfield.
Sass detailed the agency's growth in terms of commission figures, numbers of transactions and numbers of real estate agents since he became the broker of record and owner of Century 21 Cedarcrest in late July 2009. "We had about 16 people and we were doing between $15 and $20 million in sales volume at that time," reported Sass. "In 2017, we did over $90 million in sales volume. It was our eighth straight year of positive growth, and we closed transactions in 59 different municipalities throughout New Jersey."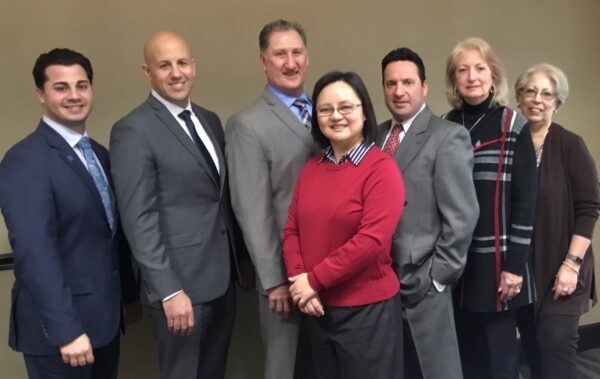 "In 2017, we did over $90 million in sales volume. It was our eighth straight year of positive growth, and we closed transactions in 59 different municipalities throughout New Jersey."
John Sass, Broker owner, Century 21 Cedarcrest Realty
Noteworthy in that is that the Essex County real estate office weathered the storm of the Great Recession and the housing market collapse and continued to show positive growth year over year. Century 21 Cedarcrest now has 70 real estate agents on its roster.
The following Century 21 customer service and production awards were presented by Sass:
1 – Quality Service Producer: Patricia Popola and Joey Scotto for attaining an overall 90 percent approval rating in the past year.
2 – Quality Service Pinnacle Producer: Bruno Marino, Tracy Chan and Frank Conturso for attaining a 95 percent approval rating for two or more consecutive years.
3 – Century 21 CENTURION Producer: Tracy Chan, the number one agent in production at Century 21 Cedarcrest. Chan is ranked 13 out of over 1000 agents throughout Century 21's entire New Jersey/Delaware region and a Century 21 Presidents Award winner. She had over $16 million in sales volume in 2017.
4 – Century 21 Masters Emerald Level: Frank Conturso and Joey Scotto, who ranked second and third respectively in gross closed commissions.
In addition, Patricia Popola, Susan McGarrity and Bruno Marino were recognized for being among the top six agents in gross closed commissions in the office. All Century 21 Quality Service and Top Producer award winners will be recognized at the Greater New Jersey Brokers Council Gala at The Venetian in Garfield, N.J. on March 8, 2018.
For the fourth year in a row, Century 21 Cedarcrest Realty was the GOLD MEDALLION Office Award Winner and Century 21 Quality Service Pinnacle Award winner for the region, reflecting total office production and customer satisfaction scores. The agency was also named "Best Realtor" in Suburban Essex magazine's 2017 Best of Essex Readers' Choice Awards, in recognition of its high level of customer service, its third consecutive honor.
Sass credits his agency's success to his team's commitment to customer service and leveraging the leading real estate technology tools to expand listing reach, improve lead generation and enhance customer relationship marketing; onsite training and professional development, including informational and educations webinars and seminars, and professional development classes; and his investment in external marketing efforts, including website updates, social media marketing, TV commercials and direct mail campaigns.
Century 21 Cedarcrest Realty handles residential and commercial real estate throughout northern New Jersey with a specialty in Essex County; it also has a Fine Homes & Estates division to manage the marketing of distinctive properties. To learn more about Century 21 Cedarcrest Realty visit http://www.Century21Cedarcrest.com
###
About Century 21 Cedarcrest Realty, Inc.
Located in Caldwell, N.J., Century 21 Cedarcrest Realty, Inc. (Cedarcrest Realty) works with property buyers and sellers throughout northern New Jersey, including Morris, Essex, Passaic, and Bergen counties. Under the guidance of broker/owner John Sass, its nearly 40 real estate agents and REALTORs® work in both residential and commercial real estate. Sass joined the CENTURY 21® Real Estate System as a real estate associate in 1983, and advanced to Management in 1987. He is a licensed broker in the State of New Jersey, as well as a graduate of the REALTOR® Institute (GRI).