Springer Realty Group introduces its new mortgage relationship with Foxtrot Mortgage, adding a new passive revenue stream for agents
EXTON, Pa., Jan. 27, 2023 /Realty Wire/ — Springer Realty Group (SRG) has successfully partnered with Foxtrot Mortgage and launched an additional passive revenue stream opportunity for its growing number of real estate agents. The addition of Foxtrot Mortgage represents a 4th revenue stream available to their growing number of over 250 agents. The brokerage already offers agents the opportunity to keep 100% of their commissions, participate in their recruiting "Ambassador Program", as well as qualify for ownership in their title company, Golden Abstract.
"I've known Chris Fox for over 15 years and believe our new relationship with Foxtrot Mortgage delivers three points of added value to our brokerage," says Dave Springer, Owner & Broker of Springer Realty Group. "First and foremost, we believe Chris and his company will deliver superior products and service to our agents and their clients. Secondly, our company's mission has always aimed to help agents keep more of their hard-earned money. Utilizing this relationship to help create another meaningful passive income stream was paramount to this decision. Lastly, the additional revenue this relationship should generate will help deliver the meaningful operating income needed to maintain our low-cost model where agents can keep 100% of their commissions at the closing table."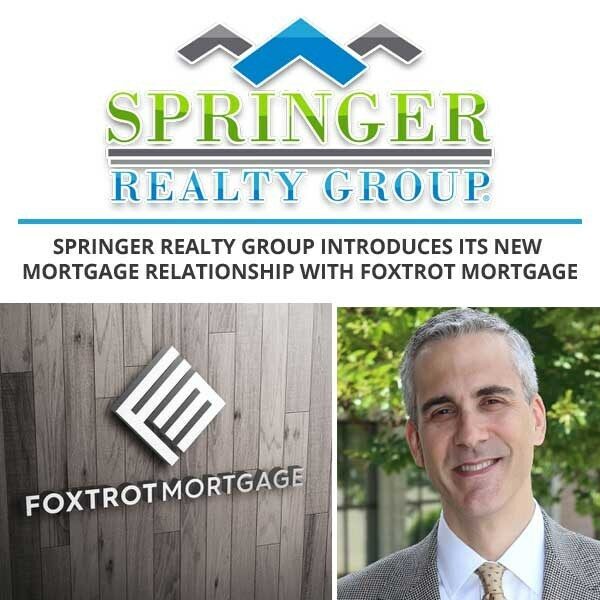 Springer Realty Group has been in business for nearly 14 years, and they have experienced very strong growth. With hundreds of agents located in PA, NJ, DE, and MD, Springer Realty Group provides agents with the freedom and flexibility to run their businesses alongside a streamlined model that allows their agents to keep 100% of their commissions and opportunities to participate in additional, passive income streams.
"I am very excited to work with Dave Springer and the entire Springer Realty Group organization," says Foxtrot Mortgage Partner, Chris Fox. "Since we built our mortgage company in 2018, it's been our goal to partner with outstanding real estate firms aligned with the same goals of providing top-level service and products for their clients. We are thrilled that our first brokerage relationship is with Springer Realty Group."
Springer continued, "We want to continue to share our full-service brokerage with other real estate agents and believe our new relationship with Foxtrot Mortgage adds significant value to the REALTOR® community."
About Springer Realty Group :
Springer Realty Group is a locally owned, independent brokerage that was founded in 2009. They have significantly grown in transactions and sales volume. More than just keeping 100% of their commissions, they provide their agents with opportunities to participate in multiple passive income streams. Licensed in Pennsylvania, New Jersey, Delaware, and Maryland, Springer Realty Group runs a full-service, yet nimble and streamlined operation leveraging the most advanced technology and marketing methods to maintain a competitive edge within the marketplace.
To learn more about Springer Realty Group, go to https://www.springerrealtygroup.com/
Contact:
Dave Springer
Springer Realty Group
740 Springdale Dr., Suite 100
Exton, Pa 19341
Mobile: 610-202-2859
Office: 484-498-4000
352727@email4pr.com
SOURCE Springer Realty Group