PRINCE WILLIAM COUNTY, Va., May 8, 2023 /PRNewswire/ — Today, members of the Prince William Board of County Supervisors (BOCS) joined officials of Virginia Railway Express (VRE) and the Virginia Passenger Rail Authority (VPRA), along with Potomac Shores master developer Biddle Real Estate Ventures (BREV) at a ceremony to mark the commencement of construction of the $24 million VRE Station garage at Potomac Shores.
Plans for the Potomac Shores VRE Station and garage were first announced in 2014. Initial designs and planning had to be halted when the nearby Third Track Project impacted the station layout, and later an initiative to provide separate tracks for passenger and freight service required a further redesign of the project.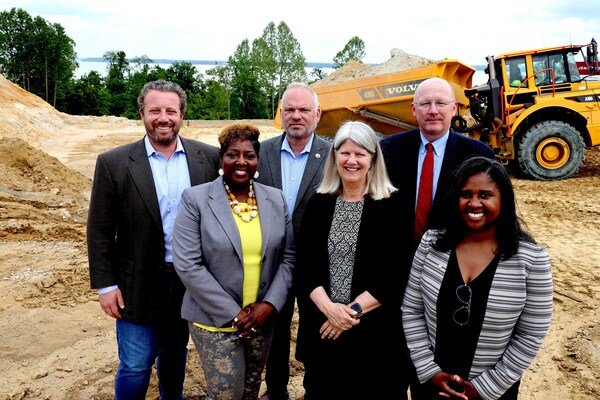 "Our county has worked closely with stakeholders including the VRE, CSX, and the VPRA along with the developer of Potomac Shores to push this project forward,"said Ann Wheeler, Chair, BOCS. "We're confident that these organizations are working together cooperatively towards a result that will benefit the entire Prince William County community."
In July 2021, the VRE Board authorized the operating agreement for the Potomac Shores Station. Now, with work officially underway on the garage portion of the project, officials expressed optimism.
"This is a crucial step forward, and we're pleased to say work is actually underway on the first phase of this project. This project will be an added value to the residents of Prince William County. Furthermore, it is an investment into our economic development initiatives and transportation goals for the neighbors in Potomac Shores, the county, and the region," said Potomac District Supervisor Andrea Bailey.
Margaret Franklin, Supervisor, Woodbridge District, commented, "I've worked diligently to promote Improved access to public transportation and improved quality of service here in Prince William County. Our residents deserve it and it's a vital component of economic development. This construction launch of the VRE Garage at Potomac Shores is a major step forward."
Peter Chavkin, Managing Member, Biddle Real Estate Ventures (BREV), said, "We're grateful for the continued support and leadership of the Prince William County Board of Supervisors as we work towards fulfilling the goal of a VRE Station here at Potomac Shores. BREV is pushing forward by investing our resources into every aspect of the project under our control, and working closely with the VRE, CSX, and VPRA along with the County."
The costs of the project are being executed by the Potomac Shores developer through previously issued bonds, as well as through the contribution of land. To date, the development team has spent more than $5 million for a series of designs and redesigns for the VRE Station and garage. Recently, a final hurdle towards construction of the station itself was cleared when BREV agreed to a donation of trackside land to VPRA, pending VPRA's additional acquisition of CSX-owned land, expected in December, 2023. The land transfers are expected to permit station construction to begin in 2024.
The Potomac Shores VRE Station Garage was designed by Washington D.C. based Core Architecture. L.F. Jennings, based in Falls Church, VA, has been awarded the contract for construction. The four-level, 166,000 square foot garage will include nearly 400 parking spaces. The surface of the garage will feature a public boardwalk area along the east side with expansive views of the Potomac River. Landscaping with a gazebo and viewing benches will help to make this a focal point of the community and attract visitors to the future retail and restaurant operators located within the Potomac Shores Town Center.
About Potomac Shores
Located just 30 miles south of Washington D.C, Potomac Shores is a transit-oriented, mixed-use community covering 1,920 acres and featuring nearly two miles of shoreline. The site includes 1,000 acres of preserved hardwood forests and streams, traditional Virginia Tidewater architectural designs and the area's only public Jack Nicklaus Signature Golf Course, as well as the 30-acre Ali Krieger Sports Complex. The Potomac Shores Middle School opened on-site in 2021. Future development is set to include a mixed-use town center and a new VRE commuter rail station. The community's master plan includes two public schools, multiple sports fields, 10 miles of trails and over 3,800 residences. Potomac Shores offers the 13,000 square-foot Shores Club, a private recreation and fitness complex, and has sold more than 2,000 new homes. For more information, visit www.potomacshores.com.
About Biddle Real Estate Ventures (BREV)
Headquartered in New York City, BREV is focused on mixed-use, master-planned communities, with proven expertise in resolving complex land-use and financing issues. BREV is dedicated to creating communities of the highest quality that reflect the local history, culture and context of their settings. BREV is known for its deep capital market relationships as well as thoughtful community engagement with all stakeholders during the earliest stages of a project – ensuring financial viability and win-win development outcomes. The company is led by a close-knit team of professionals who have been associated with the successful development of more than 5,000 new homes throughout the New York tri-state areas and Northern Virginia.
SOURCE Biddle Real Estate Ventures