Home sponsored by Bass Pro Shops and Lennar
DENVER, May 9, 2023 /Realty Wire/ — Helping a Hero, a non-profit providing support for military personnel severely injured in the war on terror, Bass Pro Shops and Lennar, one of the nation's leading homebuilders, broke ground on a wheelchair-accessible home for U.S. Marine Corporal Ryan Garza (Ret.). The new Lennar home is in the master-planned Sterling Ranch community in Littleton, CO, near Denver.
Hundreds of people lined the streets waving American flags and holding handmade signs cheering "Welcome Home, Cpl. Garza." Garza was greeted by special guests Helping a Hero Executive Director Rhonda Walls Kerby and Colorado Chair Vicki Brentin; Tate Stevens, an American country music artist and National Ambassador for Helping a Hero; Brock Smethills, President of Sterling Ranch Development Co.; and Jason Nazarenus, Denver Division President for Lennar.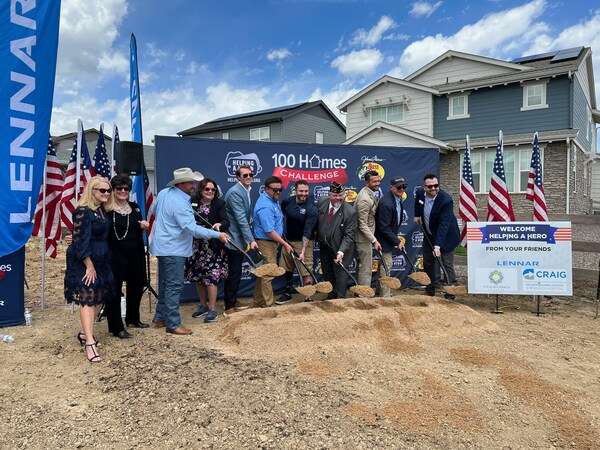 The groundbreaking was part of Helping a Hero's 100 Homes Challenge, which was launched by Johnny Morris, Founder and CEO of Bass Pro Shops. Lennar has joined the effort and committed to building 10 homes for Helping a Hero as part of the 100 Homes Challenge. Homes by Lennar are being built in Texas, Arizona, Florida and Colorado – with more homes to be added.
Lennar worked with Helping a Hero to adapt the new home – a single-story wheelchair-accessible 2,600-square-foot model featuring four bedrooms and two and a half bathrooms. The home will have adaptations such as a roll-in shower, roll-under sink, lush thresholds, wider doors and other safety features that will enable Garza to have freedom inside his home for the first time. Sterling Ranch, a master-planned community of more than 12,000 homes, lies just 20 miles south of downtown Denver. This award-winning community of new homes is positioned in an idyllic valley at the gateway to the Front Range – nestled between two state parks, three regional parks, and a national forest.
"It has always been my dream to have a home with a bathroom and kitchen to accommodate my disability," said Garza. "But this home is beyond anything I have ever imagined. I am incredibly grateful to Helping a Hero, Lennar, Sterling Ranch and Bass Pro Shops for making my dream come true."
"Corporal Garza is a servant leader who has never had an adapted home," said Helping a Hero Home founder Meredith Iler. "Helping a Hero is thrilled to partner with Lennar to design a wheelchair accessible home for Ryan – complete with wider doors and hallways, an adapted bathroom and other safety features to ensure he has freedom inside his home."
"Giving back to the communities in which we build is a core value at Lennar and on behalf of our entire Denver Division, we are honored that Ryan chose a Lennar home," said Nazarenus. "Our team is happy to commit our time and resources to create an exceptional home for an extremely deserving American hero."
Ryan Garza joined the Marines in April 2008 and was deployed with Combat Logistics 8 in the Helmand Province of Afghanistan. Despite the danger, Garza ultimately volunteered for four tours and experienced significant firefights almost daily. During his final mission, Garza was in a seven-ton truck when it was hit by an improvised explosive device. Garza lost his right leg and sustained other injuries requiring intensive rehab. He spent 13 months in the Naval Medical Center and retired in November 2012.
Garza has always been adventurous and loves Colorado – especially its mountains. While visiting his parents a few weeks ago, he thought he was shopping for a kayak at a local Bass Pro Shops when over 30 Bass Pro Shops, Helping a Hero and Lennar team members surprised him with the news he had been selected for this Helping a Hero home. Garza was so surprised by the news that he had tears streaming down his face.
Garza aspires to be a successful author with a focus on children's books. He just completed a book entitled "My Journey from Guilt to Forgiveness" after witnessing a buddy commit suicide and not being able to help him.
About Helping a Hero:
Texas-based Helping a Hero is a 501(c)(3) non-profit, non-partisan organization providing support for military personnel severely injured in the war on terror. Our principal activity is to provide specially adapted homes for qualifying service members as well as engage the community to provide services and resources for our wounded heroes and their families. Home recipients include veterans whose permanent injuries from combat have left them paraplegics, quadriplegics, amputees, blind, with severe burns and other injuries. Helping A Hero provides additional support programs including marriage retreats, caregiver retreats, recreational activities, and emergency needs support. Helping a Hero Outdoors has expanded to serve our heroes through hunting and fishing outings.
About the 100 Homes Challenge:
Johnny Morris, founder and CEO of Bass Pro Shops and noted conservationist, launched the 100 Homes Challenge and committed to fund 25 percent of the cost of the next 100 Helping a Hero homes. Helping a Hero invites the public to join Johnny Morris in the 100 Homes Challenge by making a donation, however large or small, to help to fund the other 75 percent of the cost of these homes.
Helping A Hero is accepting applications from Post 9-11 wounded warriors needing a specially adapted home due to their combat injuries to become part of the 100 Homes Challenge. We also invite the public to Nominate a Hero. Both the home application and the Nominate a Hero form are available on our website at www.helpingahero.org.
About Lennar Corporation
Lennar Corporation, founded in 1954, is one of the nation's leading builders of quality homes for all generations. Lennar builds affordable, move-up and active adult homes primarily under the Lennar brand name. Lennar's Financial Services segment provides mortgage financing, title and closing services primarily for buyers of Lennar's homes and, through LMF Commercial, originates mortgage loans secured primarily by commercial real estate properties throughout the United States. Lennar's Multifamily segment is a nationwide developer of high-quality multifamily rental properties. LENX drives Lennar's technology, innovation and strategic investments.
Media Contacts:
Margaret Cordes, Communications Director, HelpingaHero.org
832-655-5499; margaret@helpingahero.org
Danielle Tocco, Vice President Communications, Lennar Corporation
949-648-1823 mobile, Danielle.tocco@lennar.com
SOURCE Lennar Corporation