Partnership provides Venterra Residents access to housekeeping, chores, pet services, meal delivery, and more
HOUSTON, May 8, 2023 /Realty Wire/ — Venterra Realty has partnered with Amenify to provide its residents with a one-stop shop for multiple staffed services.
Amenify is an end-to-end solution for amenity service teams in residential portfolios. Their services include cleaning, handyman, private meal delivery, grocery delivery, and more. Amenify's modern approach to the industry includes field provider technology for quality control, compliance, and real-time customer support across 250+ cities in the US.
Through Amenify, Venterra residents can see their property's assigned service teams, access their credits and utilize the concierge support. For residents looking for regular housekeeping, local meal/grocery delivery, help with pet care, or furniture assembly – Amenify vetted pros are available for booking.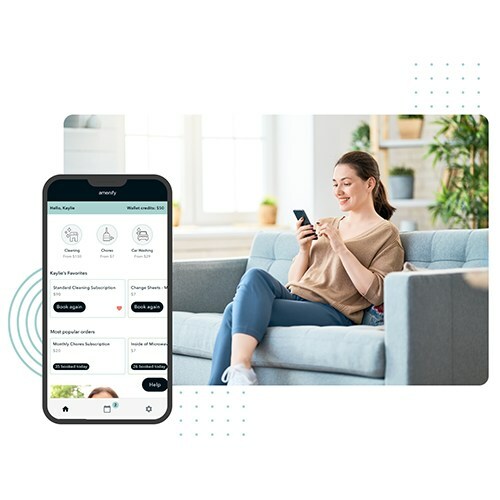 All Venterra Realty residents will automatically receive $30 off any one service during their first month, or upon lease renewal, and $15/per month to use toward any service, creating unique value.
"One of our goals in 2023 is to simplify processes both internally and for our residents," said Venterra CEO John Foresi. "Through our partnership with Amenify, our residents will be able to benefit by saving money on services, spending less time on chores and task lists, and will be able to spend more time on activities that bring them joy instead."
"One challenge when working with a portfolio of properties across various states is delivering a consistent experience in all markets. This innovative service will undoubtedly improve and enhance our renter experience by allowing for us to provide a standardized set of offerings for resident services," added Venterra Chairman, Andrew Stewart. "Our partnership with Amenify is just another example of how we are continually striving to make life as convenient as possible for the residents of our communities."
Everett Lynn, CEO, of Amenify said "It's a delight working with operators who invest resources in the resident experience. Happy residents = retention = a win-win. Kudos to the entire Venterra team, as their guidance has been instrumental for Amenify's growth. We look forward to continuing to innovate together in our partnership!"
About Venterra:
Founded in 2001, Venterra Realty owns and manages approximately 80 communities and more than 23,000 apartment units across 19 major US cities that provide housing to over 44,000 people and 15,000 pets. The organization has completed approximately $8.7 billion in real estate transactions and currently manages a portfolio of multi-family real estate assets valued at over $4.7 billion. Venterra is committed to improving the lives of its residents by delivering industry-leading customer experience. Find out more about Venterra Realty and its award-winning company culture at Venterra.com.
Contact: Allie Foard, Communications Manager & Brand Specialist; Venterramedia@venterraliving.com
SOURCE Venterra Realty