MIAMI, FL – October 11, 2023–(Realty Wire)–Safe & Green Holdings Corp. (NASDAQ: SGBX) ("SG Holdings" or the "Company"), a leading developer, designer, and fabricator of modular structures for residential, commercial, and point-of-care medicine, announces an agreement with Impact Housing to construct 3 modular Comfort Homes in Houston, Texas, for the Tunnel to Towers Foundation.
This announcement comes on the heels of last month's announcement that Safe & Green Holdings had been selected by the Tunnel to Towers Foundation to construct a traveling modular home, the Comfort Home Show model, designed to showcase the foundation's Homeless Veteran Program. The program aims to eradicate homelessness amongst nearly 35,000 veterans nationwide by providing high-quality permanent housing solutions with comprehensive wrap-around services aimed at diagnosing root causes of homelessness, and working to reintegrate veterans back into the community, which they sacrificed life and limb to protect.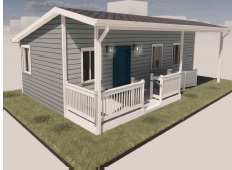 Paul Galvin, Chairperson and CEO, stated, "We are honored to collaborate with Impact Housing and the Tunnel to Towers Foundation to build the Foundation's inaugural three Comfort Homes. Each unit, measuring 35 feet in length and 14 feet in width, will be presented to a veteran in the Houston vicinity. The goal for the project is to kick off by early November. Houston was selected by the Tunnel to Towers Foundation as the location for their first development community and these three units are the beginning of this development. We look forward to building additional Comfort Homes for the Tunnel to Towers Foundation as they expand this commendable mission of combating veteran homelessness across the United States, while recognizing their invaluable service. By offering secure, easily deployable, and cost-effective homes, we aim to make a substantial impact in eradicating homelessness and empowering these Veterans to reestablish their lives."
About the Tunnel to Towers Foundation
Born from the tragedy of 9/11, the Tunnel to Towers Foundation carries out its mission to "do good," by providing mortgage-free homes to Gold Star and fallen first responder families with young children and by building specially adapted smart homes for catastrophically injured veterans and first responders. Tunnel to Towers is also committed to eradicating veteran homelessness and helping America Never Forget September 11, 2001. Visit T2T.org to learn more and follow Tunnel to Towers on Facebook, Twitter, and Instagram.
About Safe & Green Holdings Corp.
Safe & Green Holdings Corp., a leading modular solutions company, operates under core capabilities which include the development, design, and fabrication of modular structures, meeting the demand for safe and green solutions across various industries. The firm supports third-party and in-house developers, architects, builders, and owners in achieving faster execution, greener construction, and buildings of higher value. The Company's subsidiary, Safe and Green Development Corporation, is a leading real estate development company. Formed in 2021, it focuses on the development of sites using purpose-built, prefabricated modules built from both wood and steel, sourced from one of SG Holdings' factories and operated by the SG Echo subsidiary. For more information, visit https://www.safeandgreenholdings.com/ and follow us at @SGHcorp on Twitter.
Safe Harbor Statement
Certain statements in this press release constitute "forward-looking statements" within the meaning of the federal securities laws. Words such as "may," "might," "will," "should," "believe," "expect," "anticipate," "estimate," "continue," "predict," "forecast," "project," "plan," "intend" or similar expressions, or statements regarding intent, belief, or current expectations, are forward-looking statements. These forward-looking statements are based upon current estimates and assumptions and include statements regarding building the Tunnel to Towers Foundation's inaugural three Comfort Homes, kicking off the project by early November, building additional Comfort Homes for the Tunnel to Towers Foundation as they expand their mission of combating veteran homelessness across the United States and making a substantial impact in eradicating homelessness and empowering Veterans to reestablish their lives by offering secure, easily deployable, and cost-effective homes. While the Company believes these forward-looking statements are reasonable, undue reliance should not be placed on any such forward-looking statements, which are based on information available to us on the date of this release. These forward-looking statements are subject to various risks and uncertainties, many of which are difficult to predict that could cause actual results to differ materially from current expectations and assumptions from those set forth or implied by any forward-looking statements. Important factors that could cause actual results to differ materially from current expectations include but are not limited to the Company's ability to build the Tunnel to Towers Foundation's inaugural three Comfort Homes as planned, the Company's ability to build additional Comfort Homes for the Tunnel to Towers Foundation to expand their mission of combating veteran homelessness across the United States and the other factors discussed in the Company's Annual Report on Form 10-K for the year ended December 31, 2022 and its subsequent filings with the SEC, including subsequent periodic reports on Forms 10-Q and 8-K. The information in this release is provided only as of the date of this release, and we undertake no obligation to update any forward-looking statements contained in this release on account of new information, future events, or otherwise, except as required by law.
Contacts
Investor Relations:
Crescendo Communications, LLC
212-671-1020
SGBX@crescendo-ir.com